EU environmental policy is moving towards increasingly ambitious targets, while the EU consumer markets are becoming more green-oriented. These trends are expected to generate a demand for staff specialized in  environmental policy and management on the job market.
There are  currently few educational programs in Romania that provide  specific courses addressing environmental protection and a set of  tailor-made courses on European Integration (EI) and Environmental Policies (EP) would represent a first step in filling this academic and professional gap at a regional level.
The TAG-EU Jean Monnet Module seeks to meet the following objectives: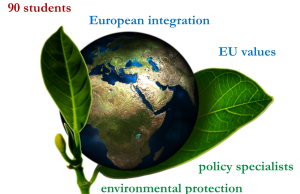 O1. Equip 90 academically diverse students, who do not normally come into contact with EU studies, with specialized knowledge, tools and techniques in the fields of EI and EP through a portfolio of both traditional and innovative teaching methods.
O2. Encourage the 90 students to use the acquired knowledge, tools and techniques in their career and to keep up to date with the field of EU environmental protection and policy.
O3. Create and instil interest in the EU and its core values regarding environmental protection within a wide group of academics and students as well as other interested parties of the general public.